When:
25 January 2017 @ 09:00 – 26 January 2017 @ 17:00
2017-01-25T09:00:00+01:00
2017-01-26T17:00:00+01:00
Where:
Rennes Exhibition Center
Cost:
See event's website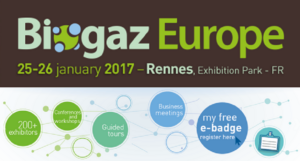 The 7 th edition of the Biogaz Europe event will take place in Rennes on the 25th and 26th of January 2017 and will be coupled with the Carrefour of local water management.
More than 200 exhibitors and 8000 visitors are expected.
The Biogas Europe exhibition is currently the benchmark for biogas plants. It combines the discovery of new forms of energy storage with research on fuel cells and hydrogen. This highly specialised fair is also an opportunity for conferences and international business meetings. An innovation contest and technical visits are organised.
This Rennes edition is situated in the heart of a very promising region for biogas, with 118 biogas units in operation, more than one third of agricultural and territorial biogas projects in operation and planned, 50% of French cattle and pig herds, and a third of the French food industry and workforce turnover.
For further information, please contact us at contact@invest-in-bretagne.org